A bit of pictures to draw your attention:)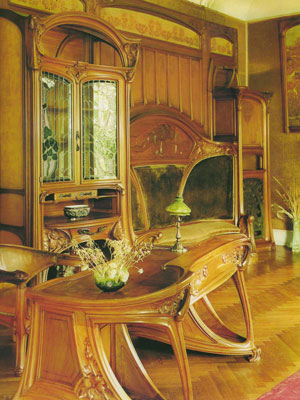 Okay, as I started this talk about art nouveau, I'll post some links about this beautiful style.

Besides, Casey asked me to post some links too.:)
Some basic information
- here in my favourite Wikipedia.
http://en.wikipedia.org/wiki/Art_Nouveau
Architecture
- first of all, Gaudi, check this great site, you can spend hours there
http://www.gaudidesigner.com/
Then fantastic works of Hector Guimard
http://lartnouveau.com/artistes/guimard.htm.
Victor Horta (
http://www.hortamuseum.be/
,
http://www.cupola.com/html/bldgstru/artnouv/artnouv1.htm
)
Sculpture -

Camille Claudel (
http://www.aworldtowin.net/reviews/CamilleClaudel.html
)
Rodin, of course (
http://www.rodin-web.org/works/default.htm
)
Glass works (mind-blowing works)

Émile Gallé, he was also making furniture (
http://www.kunstpedia.com/articles/318/1/A-practical-guide-to-Galle-furniture/Page1.html
,
http://www.worldcollectorsnet.com/emilegalle/index.html
)
Also link from Russian site with furniture from different French cabinetmakers -
http://www.stmeb.ru/hist/modern_fr.htm
Louis Comfort Tiffany (
http://www.metmuseum.org/toah/hd/tiff/hd_tiff.htm
,
http://www.marktwainhouse.org/thehouse/tiffany.shtml
)
Jewelry

Furniture

Some basic links -
http://www.artnouveaufurniture.com/
,
Perfect reference from Victoria&Albert Museum -
http://www.vam.ac.uk/vastatic/microsites/1157_art_deco/about/starobjects/
General reference -
http://www.artdecocollection.com/stock.htm
As for the pictures I posted before - it's Russian movement , you can find some at russian site
http://www.rusmodern.com/
(click on the left menu, there are lots of items.)
Russian modern was popular, it was trying to combine art nouveau with traditional Russian style. So you could see characters from Russian tales in woodcarving, paintings, etc. The artists of that time were creating amazing houses, furniture, interiors in this style. But I think I need some time to find best examples of Russian modern, I'll post it later on.